REPORT
on the project coordinating meeting in Paris (France)
Tempus project IB_JEP-26079/2005
9 Sep – 15 Sep 2007
Next project participants took part in the project coordinating meeting:
Istvan Suli-Zakar, Project Grantholder, Head of Department of Social Geography and Regional Development Planning, University of Debrecen, Hungary
Gyula Szabo, Project Manager, research fellow of Centre for regional Studies, Hungarian Academy of Sciences, Hungary
Elena Meteleva, Project Manager, associate professor of Economics and Public Administration Department of Baikal State University of Economics and Law, Irkutsk, Russia
Vladimir Yelkin, Project Coordinator, Vice-Rector of Baikal State University of Economics and Law, Irkutsk, Russia
Michel Carmona, director of Institute of Urbanism and Regional Planning of University of Paris-Sorbonne, France
Thierry Staron, general director of the Association of local governments of Ils-de-France region  (A.M.I.F.), France
Chantal Frydman, director of the project of National centre of territorial public administration (CNFPT), France
Jean-Antoine Duprat, delegate of  National Cities-Net Club, France
Anna Khetseva, Head of Territorial Department, Irkutsk Oblast Administration, Russia
Valery Mitusov, Head of Human Resource Management Department, Irkutsk Oblast Administration, Russia
Alexander Tashkykov, Mayor of Tulun Municipal District, Russia
Petr Gerasimov,  Mayor of Usolye Municipal District, Russia
The followings questions came into question on the  co-ordinating conference:
The adjusted plan of activities on 2007-2008;
The plan of measures on the whole period of the project realization;
The adjusted budget on 2007-2008;
The general budget of the project;
The distributing of the budget among participants.
Discussion of the project activities and planned outcomes
The discussion was devoted to the activities and planned outcomes of the project. Elena Meteleva (Project Manager) presented what's planned to be accomplished by the end of the whole project and the first project year and how every participating institution is supposed to make its contribution.
Discussion of the forthcoming visits of the Russian academic staff to Europe and reciprocal visits

The participants decided on the period of academic staff visits from Russia to Europe. European partners suggested that the Russian staff come to French and Hungarian Universities and Institutions in the beginning of October 2007. French partners suggested the springtime 2008 for European professors who come to Irkutsk, Russia, because of the municipal elections in France in March 2008.
Discussion of the Budget
Istvan Suli-Zakar (Grant Holder) went through the budget to make sure that every participant has an idea how much money may be spent on every activity.  The reporting principles were given again an additional attention.
The discussion continued on issues that needed to be further clarified.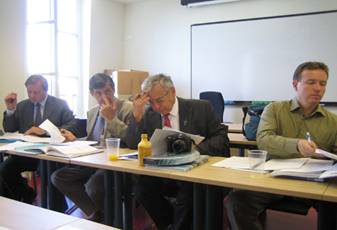 Thierry Staron, Jean-Antoine Duprat, Chantal Frydman, Istvan Suli-Zakar, Gyula Szabo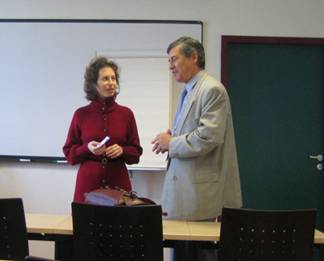 Elena Meteleva, Jean-Antoine Duprat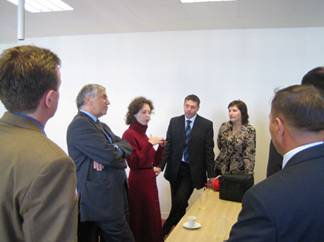 Gyula Szabo, Michel Carmona, Elena Meteleva, Valery Mitusov, Anna Khetseva, Petr Gerasimov
25.10.2007